We've highlighted five of the weirdest – and most delicious – hotpot restaurants like Running Chicken and Haidilao that will satisfy even the most adventurous hotpot lovers
Published: 12:00pm, 16 Oct, 2019
TOP PICKSMagazinesWho branded Sulli's online haters 'cowardly murderers'?16 Oct 2019MagazinesK-pop star Sulli, of girl group f(x), found dead at her home in Seoul15 Oct 2019Magazines6 hot hotel deals in Hong Kong as room rates hit record lows11 Oct 2019MagazinesHow Return the World to You brought fashion to the small screen in China5 Oct 2019MagazinesAvengers star Claudia Kim is getting married8 Oct 2019MagazinesHow Bruce Lee inspired China's UFC champ Zhang Weili21 Oct 2019MagazinesWhat are Blue Flag beaches, and where can you find the best ones?17 Oct 2019MagazinesThe world's 21 richest royals revealed21 Oct 2019MagazinesThe 10 top-paid YouTubers – who make up to US$10,000 per minute22 Oct 2019MagazinesInside 9 crazy rich celebrities' New York City homes16 Oct 2019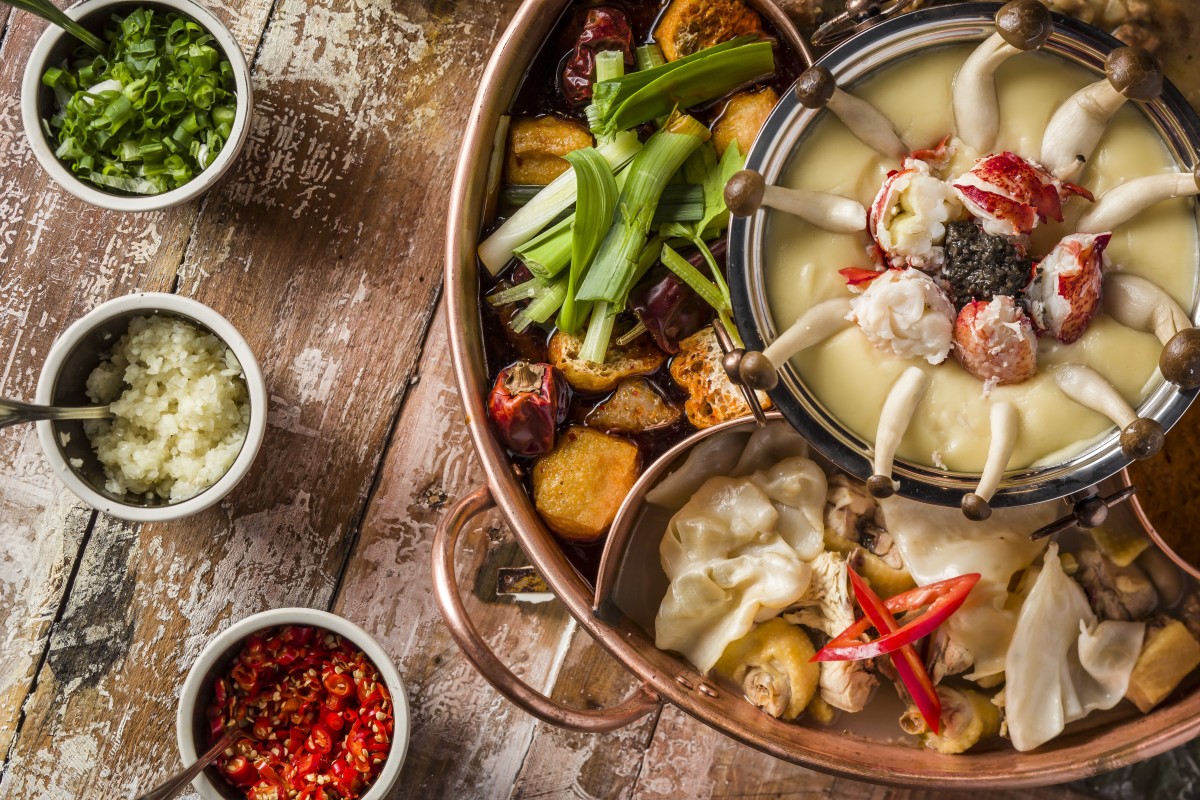 The Ultimate Drunken Pot at the Drunken Pot is one for a seasoned hotpot lover.
If you're a seasoned Hongkonger, you know the hotpot routine well: you call up friends or family, tell them to starve themselves until dinner, and then head out to feast on simmered meats, veggies and fish balls until your stomachs explode. All the while, you might be diligently slapping those stomach-filling noodles out of your cousin's mouth because he's still a young buck and doesn't understand the intricacies of the city's favourite winter pastime. (Don't worry, he'll get there someday.)
However, your hotpot regimen may be in need of a little refresh. Why not try something different this year and test the limits of your hotpot love? Try out some of the strangest hotpot restaurants in Hong Kong.
We have scoured the city for the weirdest – but most delicious – hotpot joints in the city so you don't have to. Here are our top five for every type of hotpotter. Which one are you?
For that friend who's always down for anything:
Restaurant: The Drunken Pot
Locations: Causeway Bay, Tsim Sha Tsui
Try: Sake bomb; private label Nagahama sake; five-in-one Drunken PotSUBSCRIBE TO STYLEGet updates direct to your inboxSUBMITBy registering, you agree to our T&C and Privacy Policy
Soup bombs at The Drunken Pot add instant flavour and richness to your hotpot.Share: