Experience the perfect match of seafood and sake at well-known restaurants in Hong Kong
Time Out Hong Kong in partnership with JFOODO|Posted: Sunday September 1 2019ShareTweet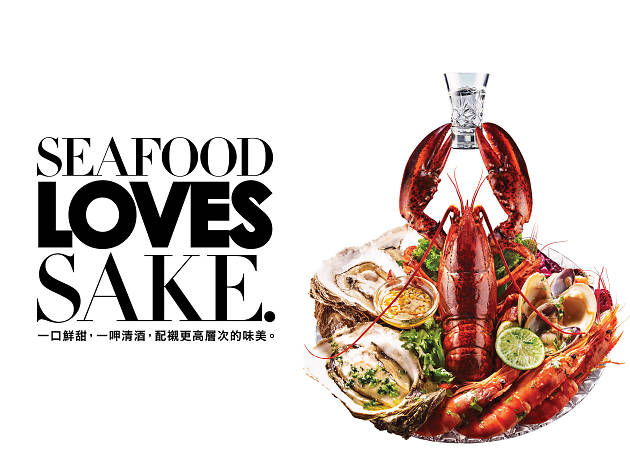 The match of Japanese sake and seafood is not well recognised in Hong Kong. Like wine, sake can range from sweet to dry and light to rich varieties. The abundant umami in Japanese sake has the power to amplify the taste of fish. Japanese food culture is heavily seafood-focused and like the culinary techniques used to prepare it, the flavours of sake have naturally evolved to match. Sake tempers odour while enhancing the natural essence of seafood, making the pair both culturally and scientifically compatible.
Starting September 19, JFOODO (The Japan Food Product Overseas Promotion Center) established by the Japanese government in 2017, will be launching 'SEAFOOD LOVES SAKE'. Seafood has always been at the heart of Japan's food culture. This campaign aims to encourage Hongkongers to experience the perfect match that is seafood and sake, enabling them to do so by partnering with 50 restaurants in the city. 'SEAFOOD LOVES SAKE.' highlights the umami of fresh seafood and sake with a unique pairing from each participating restaurant.
According to scientific research, sake has five times more amino acids than white wines, which can remove the fishiness in seafood and elevates the fresh umami flavour. Let's learn about the four sake categories – fragrant, light and smooth, rich and mature, for pairing with different seafood dishes. 'SEAFOOD LOVES SAKE.' highlights the umami of fresh seafood and sake with a unique pairing from each participating restaurant.
From September 19 to January 31, 2020, hashtag #seafoodlovessake on the official Facebook page, and comment on the restaurants you've visited for a chance to win prizes. To learn about the campaign, sake and restaurant launch dates, click here.Restaurants, Chinese
Causeway Bay
Ah Yat Abalone is what naturally comes to mind when referring to Forum restaurant. Using dried abalone specially selected from South Africa, the claypot stewed abalone made with Forum's superior broth is a perfect match for aged vintage sake, as its aroma and depth of flavour enhances the richness of the abalone with every bite.
The baked stuffed crab shell, another signature dish, where fried dried scallops and onions are mixed with the meat of sustainably sourced American blue crab is exceptionally rich. Pair it with the slightly fruity Junmai Daiginjo-shu, whose fragrance will help elevate the flavour of the crab.

For fans of succulence, the baked lobster with soy sauce is a must-try. Fresh lobsters are flash fried with a thin layer of corn starch and house-made soy sauce. Junmai Daiginjo-shu's unique combination of nutty, salty and seaweed-like aroma is a perfect match for the meaty lobster.

Grilled on high heat and topped with the premium Russian Malossol Caviar, the sashimi-grade scallops are tender on the inside and perfectly charred on the outside. It is recommended to pair this with the sour pear and peach-flavoured Japanese Soshu. This sake has a strong mineral taste as it is made from hard water, and it can defuse the slightly salty taste of scallops and caviar while bringing out the essence of the shellfish.Read moreBaan ThaiRestaurants, Thai
Central
While a staple spirit in Japanese culture, Sake has grown in popularity worldwide and specially as a match with seafood. Sweet, sour, salty and bitter, these four main markers of Thai cuisine that fusions with seafood make it an excellent pairing with aromatic sake. Using it in cocktails is a great way to introduce it to new drinkers. Baan Thai presents three sake-based cocktails to go along with their new seafood appetizers.
The vermicelli prawn salad which is tossed with spicy and tangy house dressing is paired with the refreshing Saketini. A twist on a martini, it mixes sake and vodka, adding cucumber juice and simple syrup to balance out the dryness of the sake.
Sora Thai, made with the citrus- flavoured sake, Thai basil, elderflower liqueur, Japanese yuzu, acts as a zesty companion to the spicy tiger prawns. Marinated and grilled to perfection, the umami of the prawns is brought out two-fold by the citrus and the sake. Sora means 'sky' in Japanese, which is appropriate as this effervescent cocktail topped with Prosecco shines bright like the Thai sky.
To bring out the sweetness of the almond-like sake, the Kokokobe includes Flor de Caña rum, Ogreat liqueur, chocolate and Angostura bitters and served over the rocks. The name is a play on 'cocoa' and the city of Kobe, which was a former major chocolate exporter. Pair this with traditional fried Thai fish cakes served with spicy nam chim sauce.
Until Dec 30, the sakes used in the cocktails are all available by the glass and by the bottle. The bottles are 50% off when ordered along with an item from the a la carte menu. While the Sake Cocktail Combo allows guests to choose one sake cocktail to go with one of the new seafood appetizers at a great value of $168.Read moreHIMRestaurants, Chinese
Kwun Tong
Whether it's a sea cucumber the size of your arm, a tower of shellfish, or abalone air-freighted live from New Zealand, the seafood here is always fresh and so are the ideas. The light umami of these delicacies, or 'treasures of the sea', is enhanced by sake. The simple flavours and aroma of sake pair well with pretty much anything, but particularly with simple or subtle flavours. It brings out the inherent flavours of the star ingredients used in this seafood and sake pairing menu including Alaska king crab prepared two ways (steamed with egg white and pan fried), geo-duck prepared two ways (pan fried whole and deep fried liver) and pan fried Australian green lip abalone.Read moreRestaurants
Lamma Island
Located in the fishing village of Sok Kwu Wan, the restaurant has over a thousand seats with a seaside view, offering an array of freshly caught seafood items. Steamed catch of the day and black bean clams are the usual suspects, but the sake pairing menu makes for a fun evening of island dining. Not only does sake bring out the flavours of fresh seafood, it can also temper fishy aromas. The robustness of the award-winning chilli crab and deep fried salt and pepper squilla pair perfectly with an equally umami-rich sake. The lactic acid-derived milky qualities of this sake have a strong affinity with more buttery dishes.Read moreRestaurants, Chinese
Tsim Sha Tsui
Classic Cantonese fare with contemporary flair is brought out with a sake pairing menu at Hexa. Sake's real trump card is that it is high in amino acids, which enhances the umami in seafood. Fried tiger prawn with green peppercorn sauce pairs well with a rich sake, while the lighter steamed grouper with crabmeat and red ginger partners best with something equally as delicate. Steamed Australian crystal crab in Huadiao wine and egg yolk sauce is served alongside citrus-forward sake, which has an affinity for dishes that are a match in acidity. Read moreTempura TakiRestaurants, Japanese
Central
TEMPURA TAKI, named after the Japanese word: "TAKI" which means rapids, the restaurant brings out the new concept of "Tempura Omakase" by Executive Chef Eric Chan. Omakase, meaning "I'll leave it up to you", is a type of meal offered by Japanese restaurants, consisting of seasonal specialties selected by the chef. Guests can enjoy the double treats of sight and taste at the show platform of the chef and his culinary team. The set menu boasts a wealth of offerings including appetizers, soups, sashimi, tempura, rice dishes and desserts. Since seafood features prominently here, there are three light-flavoured sakes – Bijofu Mai Junmai Daiginjo, Jozen Mizunogotoshi Junmai Daiginjo and Tatenokawa Seiryu Junmai Daiginjo – that pair well to enhance the refreshing sweetness of the seafood.
It's worth mentioning that the sashimi offerings consist of tuna, octopus and seasonal white fish, all of which have different meat textures and richness in tastes. The tempura dishes include shrimp, seasonal fish and specially selected seafood. There is also a grilled sea bream, a dish that is first marinated in miso and then cooked to a mouth-watering effect.Read moreRestaurants
Sheung Wan
Tate Dining Room and Bar will offer a Seafood and Sake Pairing Menu, with accompanying sake cocktails.Read moreLe RêveRestaurants
Causeway Bay
In addition to bringing in a guest sommelier, the restaurant will also offer a special seafood dinner menu which includes Belon oyster, aburi tuna, shirayaki sea eel, pork belly and a berrriolette plum mousse cake, all paired with a different sake. Read moreBook onlineShun De KungRestaurants, Chinese
Jordan
Enjoy a complimentary glass of sake when ordering one of the chef's recommended seafood dishes such the fish skin with ginger and garlic and Shun Tak squid balls. Moreover, receive a complimentary 180ml bottle of sake when ordering the chef's signature Shun Tak style fish.Read moreEl BornRestaurants, Spanish
Causeway Bay
Located in Causeway bay, this Spanish tapas joint serves up a delicious and wallet-friendly selection of small plates in addition to the traditional menu items. Offering its customers an authentic Spanish dining experience, its sake pairing menu elevates the experience with a unique flair.
The signature seafood paella, rich and abundant in flavours, is paired with the Junmaishu Okudenkan Junmai sake. A perfect balance to the complex flavours of the paella, its mineral taste brings out the freshness of the seafood. Together, they make for a hearty afternoon meal.
The restaurant also provides the Noguchi Naohiko Linghe sake with another one of its seafood dishes, the Spicy Hokkaido scallop tartare with crispy filo. The dense and savoury flavour of the sake provides a balance to the spice of the dish, while also bringing out the subtle sweetness and freshness of the scallop.
For the Premium Cod loin with assorted seafood, the restaurant offers a Dewazakura Omachi Junmai Ginjo. The fruity and refreshing taste of this sake contrasts wonderfully with the complexity of this dish, providing for a generously balanced serving of flavours.Read moreFresh Seafood RestaurantRestaurants, Chinese
Tsim Sha Tsui
Enjoy two complimentary glasses of selected sake when ordering one of the chef's recommended seafood dishes, including the salted egg yolk white fish, steamed sticky rice with crab, Chao Zho style Cloudy Bay clams and pork with salty fish and shrimp Paste.Read moreLiu Yi Shou Chong Qing Hot PotRestaurants, Chinese
Wan Chai
Enjoy a complimentary selected 180ml sake bottle when ordering one of four hot pot seafood platter options.Read moreAh Yat Harbour View RestaurantRestaurants, Chinese
Tsim Sha Tsui
Japanese sake comes in many forms, whether it's soft and refreshing or full-bodied and complex, each has its own distinct flavour. To get a taste of all the different sakes in one go, don't miss out on Ah Yat Harbour View Restaurant's six-course pairing menu. This experience offers customers three 30ml servings of sake accompanied by different food. The feast begins with a portion of raw sea cucumber from the Kansai region of Japan, which boasts a soft, smooth flavour that tempers the wasabi soy sauce that it is dipped in. This is followed by sautéed fresh lobster and water chestnut with black bean sauce which is excellently paired with the sake of the Noguchi Naohiko brewery in Ishikawa Prefecture. The sake boasts a light taste and goes down easily.
The restaurant's Korean abalone, goose and foie gras with stuffed crab shell take the feast to its climax. The restaurant's signature dish, the abalone, is made with a variety of premium ingredients to make it rich in flavour, while the baked stuffed crab shell with foie gras pushes the taste to the extreme. This dish is accompanied by Kirinzan Black sake, which has a very mellow, acidic body that complements the abalone, foie gras and crab. Finally, guests are served dumplings and fried rice, both of which make an excellent match for a sip of the specialty unpasteurised sake that has a glistening colour and refreshing taste.Read moreThe Drunken PotRestaurants, Hot pot
Tsim Sha Tsui
Located in the bustling centre of Tsim Sha Tsui, the Drunken Pot puts a contemporary twist on the traditional Cantonese cuisine scene with its trendy street art, groovy pop tunes and its careful pairing of seafood dishes with Japanese sake. Offering a range of sake choices with each dish, the restaurant lets the customer choose whether they prefer a lighter, more refreshing sake with their dish or if a punching and rich flavour is more suited to their palate.
The restaurant's Chic and Shake dish ($428) is a rich seafood laden platter containing clams, prawns, crabs and squid. The customers are spoiled for a 4-in-1 pot with four different broths it offers, including Seafood Lobster Broth, Pork Bone Broth, Bak Kut The, etc. Guests could cook and dip the seafood into their favourite sauce.
Made with eleven different condiments, the more experimental drunken pot secret sauce is imbued with a noticeable peanut flavour that is balanced with a hint of chilli. Sakes to suit different palates are offered with the dish. One of the bottles the customer can choose is the Kirinzan Ginjo sake, a type of sake made from 60% polished rice. Infused with a light floral taste, this one is more refreshing to drink, a soothing contrast to the richer flavours of the seafood platter. The second bottle, on the other hand, is the Murokagenshu namasake. A non-pasteurised sake, this one is stronger and more complex in taste because it releases its odour continuously, thus enriching the comparatively more subtle flavours of the seafood platter.
The salted egg yolk fish crackling ($68), another customer favourite, is also offered with the Kirinzan Ginjo, for its fresh flavour with that hint of sweetness restores the palate after the salt and crisp of the dish. But a second bottle is also made available to the customer. The Kitajima Ichiban sake, drier and more punching in taste, it aids the dish by how well it enhances its flavour. Canadian Geoduck ($388-$1,688) and Fried Spicy Eel Balls ($88) are also signature dishes offered for cooked in the signature broths and sake pairing.Read moreLe PanRestaurants
Kowloon Bay
Pairing seafood with sake is traditional in Japan, of course, and the best sake emphasises the freshness and subtlety of the country's seasonal product. But sake's elegance and mellow flavour makes it a diverse pairing for many cuisines, especially when seafood is heavily featured. Le Pan's Chef Edward Voon introduces a new eight-course menu dégustation to be paired with four hand-picked sakes from Sohomare, a small, family-run brewery in Tochigi Prefecture. The menu pays homage to the longstanding Japanese tradition of seafood with sake.
Sohomare proudly handcrafts its sake in the traditional kimoto method. The method typically results in high quality sake with a discernible texture and slight tartness. Sohomare also uses only the finest Yamadaniski rice, which imparts fullness and clarity. While each sake has its own individuality, overall they begin soft and rich on the palate, then develop intensity through to a smooth, lingering finish with a bit of acidity.
Chef Voon's contemporary cuisine is built on the fundamentals of French cooking techniques. While Asian flavours from his upbringing and inspiration from Japanese cooking bring adventurous taste. Before the mains of duck confit and Kagoshima wagyu, there are five courses starring the finest seasonal seafood. Sake brings out the freshness of seafood, making it an excellent choice to begin your evening, building in flavours and taking you all the way through to the grand finale.Read moreTao Heung RestaurantRestaurants
Mong Kok
Tao Heung at The Pier Market is famous for its affordable and fresh seafood and specialty hot pots. They have launched three limited-edition seafood and sake pairing menus. Among them, is a sake with a slight grassy aroma and a thin banana scent that is best served with the fried crab or the Alaskan crab. Richer sakes are best matched with the abalone flavoured chicken pot. It enhances umami and its refreshing aftertaste neutralises any lingering grease from the chicken pot.Read moreUnder Bridge Spicy CrabRestaurants, Chinese
Wan Chai
Instead of going down the traditionalist route of pairing seafood with wine, Under Bridge Spicy Crab serves up a thoughtfully chosen selection of sake with its dishes. With its signature dish of the same name, it serves the Dewazakura Omachi. The thick and juicy crab meat of this dish is covered by an aromatic crab shell that is adorned with crisp golden garlic grains. The dish is complemented well by the richness of the sake that not only balances delightfully, but its apparent chilliness also brings out the freshness of the crab.
For its much spicier and crunchy Conchin Peppery Hot