Yes, we know you're thinking of Mask at TST. And we have to agree, they offer a fantastic range of vegetarian (and Jain!) options in authentic Si Chuen & Beijing cuisine. Their peppery cheung fan is reason enough for a visit. Sure, there is no arguing that they serve us Indians well! But let's check out more options in Hong Kong, shall we?
Qi Nine Dragons
With the lofty view of Hong Kong's skyline against the backdrop of green hills, Qi Nine Dragons on the 20th floor is the chicest restaurant in TST for contemporary Sichuan cuisine. Quiet and sophisticated, it is a lovely place to take your guests for a taste of the modern Orient.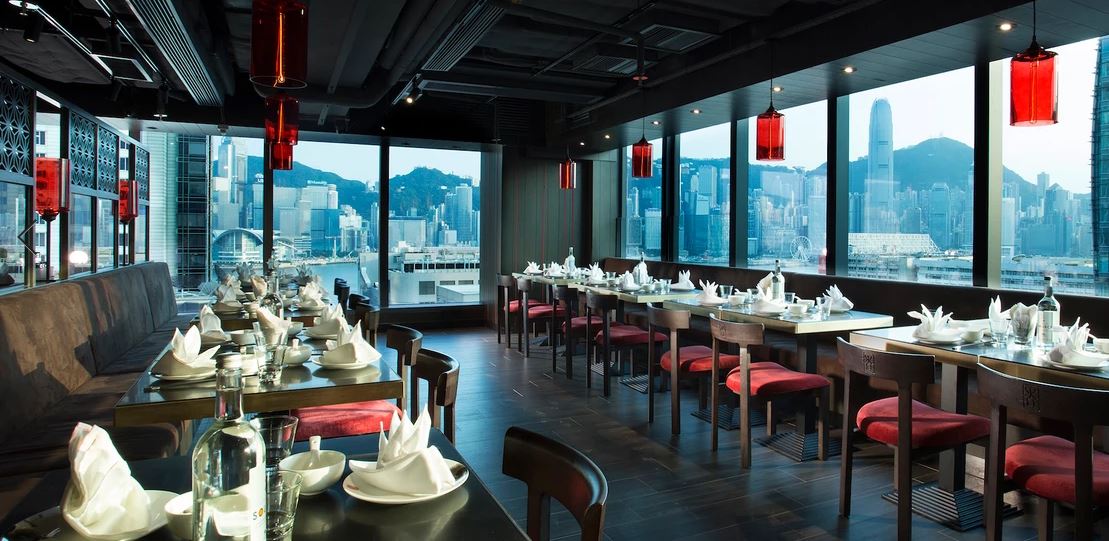 Start with the Bang Bang Wontons which come slathered in smooth peanut sauce. Spice up the palate with Smoky Hot Tofu. The service is efficient and the food is presented beautifully. Choose from Dan Dan Noodles or Mapo Tofu Rice – or better order both! Our recommendation comes with a gentle warning – you will need an icy drink to keep cooling the spice-o-meter. Try their signature mocktail, Sichuan Cooler which is lychee-based or the Nine Dragon cocktail which is sparkling wine with the flavours of tropical fruits.
If the weather permits, check out their rooftop section for a post-meal shisha under the skies!
Make a reservation
20/F & Rooftop, Prince Tower, 12A Peking Road, Tsim Sha Tsui | 2799 8899
The Drunken Pot
Not for the faint-hearted, but the hotpot is one craving that will keep beckoning you on rainy days. The Drunken Pot gives an eclectic vibe and modern twist to traditional Hong Kong hotpot! With nostalgic chartbusters in full volume and American-style booth seating – the place is perfect for a leisurely meal with friends.
Ask for both the vegetarian soups in one pot – the mushroom and the spicy Sichuan. It will come along with a tray of condiments (specify vegetarian again). And then you can order the ingredients for brewing in the hotpot as per your preference. May we suggest – lotus stem, white radish, spinach, asparagus lettuce, noodles, vegetarian dumplings and deep-fried bean curd dough.
The freshness of every ingredient is what we love best here. Pick a drink from the refreshing fruity combos – can't go wrong with any.
Make a reservation
27/F, Vpoint, Tang Lung Street 18, Causeway Bay | 852 2321 9038
Restaurant 1, 2/F, Observatory Rd 8, Observatory Rd | 2321 9038
Pure Veggie House
As the name suggests, the whole menu is pure vegetarian – organic and vegan at that! There's a reason why the place is always packed; the food is wholesome, soulful and comforting. The buzzing, casual place has the same friendly staff serving guests for years. They may not seem the promptest, and not all speak fluent English but they are constantly on their feet, serving.
The Buddhist influence in the décor extends into the food as well. The extensive menu offers so much for vegetarians that one is spoilt for choice.
We recommend the dim sum platter, Sichuan red oil dumpling and stir-fried tofu with chilli and pan-fried vegetable dumpling to start with. Follow with black truffle noodles and deep-fried rice cracker with mixed mushroom in black truffle sauce. These are just our suggestions but pretty much everything on the menu is as delicious as comforting
Keep the tea flowing… the few warm sips between the courses clears the palate.
Make a reservation
3/F Coda Plaza, 51 Garden Road, Central | 2525 0552